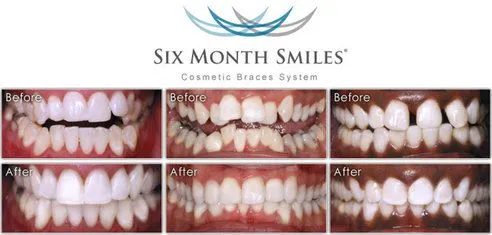 Traditional braces have been around for many years. They are the standard among patients looking to straighten their smile. Today's contemporary braces are made of exceptionally strong metals as they need to be able to stand the test of time while they are on your teeth.
In our office we offer Six Month Smiles. They are clear braces used to gently straighten and align teeth.
Straight teeth in just 6 months, how is that possible? Six Month Smiles clear braces are safe, comfortable, and provide quick results because they only move teeth that show when you smile. Using proven techniques and materials, the braces have been specifically designed for our patients with crooked, spaced, or misaligned teeth.
If you would benefit from Six Month Smiles, call our office for a consult!